Maak kennis met het Nederlandse model Lindsey van der Hoeven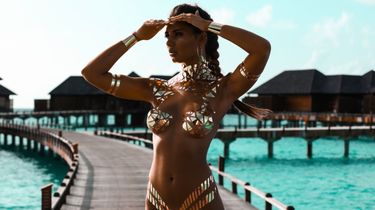 Terwijl we onlangs de nieuwe bikini-collectie van Joel Alvarez onder ogen kregen, zagen we tot ons grote plezier een Nederlands model zijn kunstwerken presenteren. Maak kennis met Lindsey van der Hoeven, op Instagram bekend als Linnebel.
Lindsey van der Hoeven aka Linnebel
Lindsey van der Hoeven is een 26-jarig model, komt uit de omgeving van Rotterdam en is nuchter genoeg om zichzelf niet te zien als fitgirl. Wat ze het mooist aan een vrouw vindt? "Tja lastig.. Ik vind de drie B's allemaal belangrijk.. de perfecte vrouw heeft in mijn ogen mooi gevormde borsten (niet te groot en vooral niet te rond), een strakke buik en heeeele dikke billen!", zei ze recentelijk tegen Manify. Mooi dat zij het zegt, want als man moet je tegenwoordig uitkijken met dit soort terminologie.
16.4k Likes, 318 Comments – @linnebel on Instagram: "I woke up like this ? x @bodyengineers #travel #life"
Lindsey van der Hoeven is meer dan alleen Linnebel op Instagram. Ze is model voor uiteenlopende merken als BALR, Cachicci en Joel Alvarez en enterde ze in 2019 de top 100 van de FHM500.
Black Tape Project van Joel Alvarez
Zoals gezegd zagen wij haar voor het eerst in deze campagne van kunstenaar Joel Alvarez, onder meer bekend door zijn Black Tape Project. Aan de hand van body tape heeft hij het dragen van bikini's tot kunst heeft verheven. Maar dat was hem niet gelukt zonder zijn modellen, waaronder de Nederlandse Lindsey van der Hoeven.
3,874 Likes, 106 Comments – @linnebel on Instagram: "✨I admire people who choose to shine, even after al the storms they've been through.. but there…"
3,879 Likes, 111 Comments – @linnebel on Instagram: "✨ Maldives ✨#tb #paradise #omdathetdonderdagis #enheerlijkweer?"
4,560 Likes, 98 Comments – @linnebel on Instagram: "Winter is coming❄️.. but I ain't ready ?? Looking back on an amazing summer full of ✨golden…"
17.4k Likes, 183 Comments – @linnebel on Instagram: "In 2 weeks another @paradisechallenge takes place. This time in Negril, Jamaica at an all in…"
17.9k Likes, 460 Comments – @linnebel on Instagram: "Who doesn't want to be a Unicorn sometimes? ?✨ #addalittlesparkle"
Ja, wij zijn fan van dit Nederlandse model, dat we tegenwoordig met fanatisme volgen op Instagram. Misschien nog goed om te weten: het Nederlandse model houdt van een lange man met lichte ogen en een lekker kleurtje. Haar ideale man mag best een beetje dominant mag zijn, moet haar uitdagen en ook gewoon lief zijn. Duidelijk.
2,192 Likes, 77 Comments – @linnebel on Instagram: "Stop DayDreaming.. start making DreamDays✨ ///Maak van Dagdromen.. Droomdagen ✨ * Ik schreef deze…"
16.6k Likes, 337 Comments – @linnebel on Instagram: "Was looking for Tarzan but then I saw Jane..? @chiarakestin ?#mygirl #jungle #vibes"
3,063 Likes, 84 Comments – @linnebel on Instagram: "☀️#hellosunshine #iloveyou"
3,631 Likes, 163 Comments – @linnebel on Instagram: "Glow✨ #maldives #shoot #paradisechallenge #blacktapeproject"
2,494 Likes, 70 Comments – @linnebel on Instagram: "Oh happy days❤️! Hope you all enjoy this perfect weather today? Wat is jullie favoriete…"
1,546 Likes, 45 Comments – @linnebel on Instagram: "Sandy sunsets ? #love #beach #sunset #ibiza #rawfile"
12.9k Likes, 164 Comments – @linnebel on Instagram: "Joehoeee taking over @fhm_nederland today and show you around @paradisechallenge in Jamaica!!…"
? Check ook: Maak kennis met Caro Calvagni, de voluptueuze vriendin van Nico Tagliafico