5 workouts voor snoeiharde buikspieren en een sterke core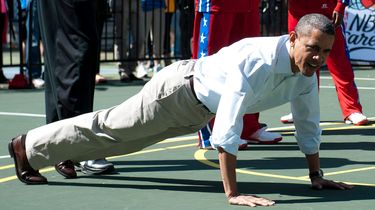 Nu je alsnog op vakantie gaat, wil je natuurlijk over het strand lopen met strakke buikspieren. Eigenlijk is dat een drogreden, want een sterke core is hoe dan ook belangrijk. Vijf workouts die je daarbij helpen.
Veel mensen denken de core alleen uit buikspieren bestaat, maar dat is een misvatting. Het is een verzameling van 29 spieren (buik, rug en bil) die jouw inwendige organen en ruggengraat beschermen. Zie het als het corset of chassis van je lichaam. Trainen dus, die spieren.
Vijf workouts voor je buikspieren en core
Met social media-platforms als Instagram liggen de personal trainers tegenwoordig voor het oprapen. Je moet alleen wel weten wie te volgen. Vijf goede workouts voor je buikspieren en core op een rij. Swipe door de posts om de instructievideo's te bekijken.
1. Dumbell Core Workout
Deze workout van personal trainer Nathan Collins bestaat uit vijf oefeningen met een dumbell. Neem 30 seconden rust tussen iedere oefening. Het aantal reps is afhankelijk van de mate waarin jouw buikspieren en core al getraind zijn.
2. Toilet Paper Core Exercises
Mocht je nog toiletrollen over hebben na die paniekaanval in de supermarkt tijdens het begin van de lockdown, dan kun je die goed gebruiken voor je buikspieren en core. Fitnessgoeroe Shea Pierre heeft er zelfs een hele workout op gebaseerd. Wij hebben de oefeningen uitgeprobeerd en ze zijn behoorlijk pittig.
3. Oefeningen met klapstoel
Geen dumbell of kettlebell, maar gewoon een stoel. Atleet en personal trainer Kyle Knapp laat zien dat je met een simpele campingstoel perfect je buikspieren en core kunt trainen. Bepaal zelf het aantal reps en neem 30 seconden rust tussen de oefeningen.
4. Twist & Burn
Hiro Landazuri laat zien dat je jouw yoga-skills ook kunt inzetten voor je buikspieren en core. Fanatieke yogi weten dat natuurlijk al veel langer.
5. Variaties op de plank (en meer)
Je vroeg je waarschijnlijk al af waar de plank bleef, want met planking train je jouw complete core. Het lijkt ons dat je wel weet hoe je een normale plank uitvoert. Maar check ook de variaties van Peter Barron met extra nadruk op de buikspieren. Vergeet de andere oefeningen van zijn workout niet.
Check ook: 5 oefeningen voor je borstspieren zonder extra gewichten