Verveling slaat toe (deel 4): modellen in quarantaine bieden troost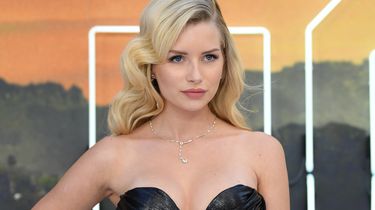 In Nederland zijn de corona-maatregelen sinds vandaag (11 mei) ietwat versoepeld, maar in veel landen moeten mensen nog altijd binnenblijven. En voor modellen wordt geen uitzondering gemaakt. Van Julia Rose tot Bella Hadid; modellen in quarantaine kleden zich uit en delen de foto's.
Iedereen maakt de periode van thuisisolatie op zijn of haar manier draaglijk. Cristiano Ronaldo en zijn vrouw Georgina Rodriguez delen work-outs voor mensen in quarantaine, muzikanten geven nog altijd live huiskamerconcerten via Instagram, graffitikunstenaars uiten hun boodschap middels street-art. En modellen? Die kleden zich uit en delen met regelmaat topless foto's. Waarom ook niet? Een overzicht van de afgelopen dagen, met onder anderen Julia Rose en Bella Hadid als vertrouwde gezichten.
Lindsey van der Hoeven
Het Nederlandse model Lindsey van der Hoeven zit nog altijd in quarantaine in Mexico en daar is het het goed vertoeven.
Lydia Clyma
Ook Lydia uit de populaire reality-datingshow Too Hot To Handle op Netflix vertoeft in Mexico.
Nina Agdal
Het Deense model Nina Agdal knuffelde topless een boom. Het quarantaine-leven doet rare dingen met mensen.
Rihanna
Rihanna deelde haar nieuwste lingeriesetjes uit de collab-collectie met Adam Selman.
Elsa Hosk
Het Zweedse model Elsa Hosk deelde haar quarantaine looks voor een shoot in Vogue.
Megan Moore
Playboy-model Megan Moore nam topless een duik in haar vijver en deed een middagdutje.
Doreen
Influencer en lingeriemodel Doreen deelde een nieuw setje.
Romee Strijd
Romee Strijd… Haar blik zegt genoeg.
Shanina Shaik
Shanina Shaik nam positie voor een topless quarantaine-shoot voor CR Fashion Book.
Kendall Visser
Een badkamerselfie, wat moet je anders in quarantaine?
Bella Hadid
Bella Hadid is een vast gezicht in deze rubriek en dit is haar meest kuise outfit tot nu toe.
Lottie Moss
Lottie Moss, het zusje van Kat Moss, deelde een paar tuinselfies in bikini.
Julia Rose
Julia Rose deed het wel gewoon topless, zoals we haar eigenlijk alleen maar kennen.
Kim Kardashian
Kim Kardashian zat op een privéstrand.
Sommer Ray
Sommer Ray deelde een work-out met weerstandsband.
Solange van Doorn
Het half-Nederlandse model Solange van Doorn belde met het thuisfront.
Anastasia Karanikolaou
De verveling straalt ervan af. Anastasia Karanikolaou is nu écht wel klaar met die quarantaine.
Jen Selter
Jen Selter bedacht een nieuwe oefening.
Jessie Jazz Vuijk
Jessie Jazz Vuijk, winnares van de FHM500 in 2019, deelde een sessie onder de douche.
Meer modellen die zich vervelen en topless foto's delen
De verneveling onder modellen is al even aan de gang en mag als het aan ons ligt nog wel even duren. Bekijk ook deel 1, deel 2 en deel 3.