Hot on Instagram: Jaymi Westra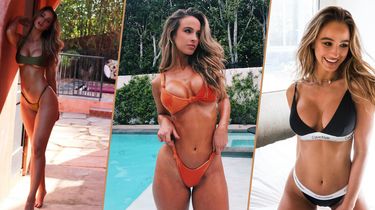 Ze woont in Los Angeles, is model, helpt vrouwen om te ontdekken of hun vriendjes wel te vertrouwen zijn en heeft een Instagram pagina vol met mooi plaatjes. Dat is alles wat we weten over Jaymi Westra en om eerlijk te zijn vinden we dat ook wel voldoende. Een foto zegt immers meer dan duizend woorden, dus wij hebben een mooi selectie voor je gemaakt.
Voor wie toch wat meer wil weten over dit beeldschone model hebben we toch even onderzoek gedaan. Naast de veelal prachtige plaatjes is ze vooral bekend van het Youtube-kanaal How To Catch A Cheater. Hierin sturen jaloerse vriendinnetjes Jaymi op hun vriendje af om te zien of hij zich kan gedragen. Mocht je het niet gezien hebben, dan heb je weinig gemist. Wij raden je aan om gewoon naar beneden te scrollen en haar beste kiekjes te bekijken.
Meer Hot on Instagram
Meer vrouwelijk schoon zien met een mooie Instagram pagina? Klik dan hier.