Disney+ is los: 8 originals om nu te kijken, beginnend met The Mandalorian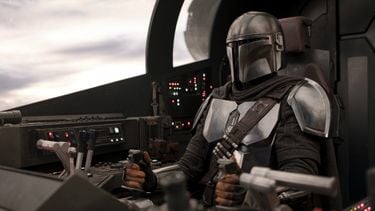 Het is 12 november, een dag waar liefhebbers van films en series lang naar uit hebben gekeken. Disney+ was al een tijdje gratis beschikbaar, maar vanaf nu is dan eindelijk de nieuwe content beschikbaar, waaronder Star Wars-serie The Mandalorian.
Met een drie uur durende trailer en een ellenlange lijst onthulde Disney een paar weken geleden al alle contentdie op de nieuwe streamingdienst Disney+ is te consumeren. Acht Disney+ Originals om naar uit te kijken, met The Mandalorian op één.
Disney+ Originals
Die ijsberg aan content bestaat voor het grootste gedeelte uit oude films en series, maar op het topje bevinden zich toch echt de eerste Disney Plus Originals. De streamingdienst heeft acht eigen producties onthuld: Marvel's Hero Project, One Day at Disney, Encore!, The World According to Jeff Goldblum, Noelle, High School Musical: The Musical: The Series, Lady and the Tramp en The Mandalorian. Voor ieder wat wils.
1. The Mandalorian
After the stories of Jango and Boba Fett, another warrior emerges in the Star Wars universe. "The Mandalorian" is set after the fall of the Empire and before the emergence of the First Order. We follow the travails of a lone gunfighter in the outer reaches of the galaxy far from the authority of the New Republic.
De meest veelbelovende Disney+ Original is Star Wars-serie The Mandalorian, met een vergelijkbaar budget als Game of Thrones. De serie gaat over premiejager Boba Fett en speelt zich af tussen Return of the Jedi (Episode VI) en The Force Awakens (Episode VII). We hebben aflevering één alvast gekeken en de sfeer is heerlijk. Lekker primitief (op de goede manier), zonder overdreven veel CGI. Veel bekende Star Wars-aspecten, maar ook veel nieuwe dingen. Disney+ werkt volgens het principe 'één aflevering per week', we kunnen niet wachten tot volgende week.
2. Lady and the Tramp
In Disney+'s "Lady and the Tramp," a timeless re-telling of the 1955 animated classic, a pampered house dog and a tough but lovable stray embark on an unexpected adventure and, despite their differences, grow closer and come to understand the value of home.
Alsof Lion King, Aladdin en Dombo nog niet genoeg zijn, komt Disney in 2019 ook met een live-action remake van Lady and the Tramp (Lady en de Vagebond). Ook hier is geld noch moeite bespaard en stiekem kijken we er toch wel naar uit.
3. Marvel's Hero Project
The journey to becoming a hero begins November 12. Marvel's Hero Project only on Disney+. Disney+ will launch in the U.S. on November 12, 2019 for $6.99 per month. Pre-order now at DisneyPlus.com.
Marvel's Hero Project is een hartverwarmende serie waarin inspirerende kinderen worden gevolgd. Stuk voor stuk hebben ze hun leven gewijd aan onbaatzuchtige daden. Marvel geeft ze een podium als superhelden in Marvel's Hero Project.
4. One Day at Disney
The spectacular collectible book and documentary shines a dazzling light on the creative forces in front of the cameras and behind the scenes at The Walt Disney Company. On December 3, the same day the book arrives in stores, Disney+ will debut it's new, 52-episode short-form series One Day at Disney, launching with a feature-length documentary.
One Day at Disney is een documentaire over werknemers van Disney; van tekenaars tot de mensen in een Mickey Mouse-pak. Ongetwijfeld een interessant kijkje achter de schermen.
5. Noelle
In Disney+'s holiday comedy "Noelle," Kris Kringle's daughter is full of Christmas spirit and holiday fun, but wishes she could do something "important" like her beloved brother Nick, who will take over from their father this Christmas.
Noelle is een fantasy-adventure kerstfilm met Anna Kendrick als Noelle Kringle, de dochter van de kerstman. Ook Bill Hader, Billy Eichner, Julie Hagerty en Shirley MacLaine spelen in de Disney+ Original.
6. High School Musical: The Musical: The Series
The 10-episode scripted series, set as the real-life East High, where the original movie was filmed, follows a group of students as they countdown to opening night of their school's first-ever production of "High School Musical." With meta references and some docu-style elements, it's a modern take on the "classic" from 15 years ago.
Goed nieuws voor fans High School Musical: de film komt terug in de vorm van een serie. Slecht nieuws voor de fans van Zac Efron en Vanessa Hudgens: de Disney+ Original heeft een compleet nieuwe cast.
7. The World According to Jeff Goldblum
See the world through his eyes. The World According To Jeff Goldblum. Original Series. Streaming November 12 only on #DisneyPlus. ➡ Subscribe: http://bit.ly/NatGeoSubscribe Watch all of these titles and more on Disney+, the ultimate streaming destination for entertainment from Disney, Pixar, Marvel, Star Wars, and National Geographic. Disney+ will launch in the U.S.
The World According to Jeff Goldblum is een documentaireserie, waarin acteur Jeff Goldblum zich laat onderdompelen in verschillende werelden. Tatoeages, sneakers, ijs, juwelen, paarden, het gaat alle kanten op. Kan leuk uitpakken, de trailer ziet er in ieder geval goed uit.
8. Encore!
Executive Producer Kristen Bell brings together former castmates of a high school musical, tasking them with re-creating their original performance in a high school reunion like no other. Emotions run high as the former students face faded friendships, former flames, self-doubt, and killer choreography.
Encore! is een soort Klasgenoten, maar dan op z'n Amerikaans. Niet gepresenteerd door Anita Witzier, maar door Kristen Bell. Toegegeven: voor deze serie hoef je geen abonnement op Disney+ te nemen.
Alle Disney+ Originals zijn vanaf 12 november te streamen. Lees hier meer over The Mandalorian.