Bella Hadid als Miss February in V-Magazine is pure kunst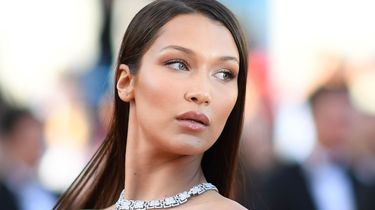 De V'S 2020 Calendar van V-Magazine is zonder overdrijven een vorm dan kunst. Vooral dankzij Bella Hadid, die als Miss February op uiterst stijlvolle manier uit de kleren is gegaan.
We hebben nooit onder stoelen of banken geschoven dat we fan zijn van Bella Hadid. In principe behoeft dat natuurlijk geen uitleg, maar soms is het toch fijn als je voorkeuren worden bevestigd door onderzoek. Volgens de wetenschap is het zusje van topmodel Gigi Hadid, die tevens te zien is in de V'S 2020 Calendar van V-Magazine, 's werelds mooiste vrouw. Komen we later in dit artikel op terug.
Bella Hadid als Miss February
De shoot met Bella Hadid voor de V'S 2020 Calendar van V-Magazine is gemaakt door fotograaf Zoey Grossman, stylist Charles Varenne, haarstylist Panos Papandrianos en make-up artist Erin Parsons. Het resultaat is even geschikt voor een museum als voor een autogarage.
Meer modellen in de V'S 2020 Calendar van V-Magazine
Naast Bella Hadid zijn onder anderen Gigi Hadid, Hailey Bieber, Alek Wek, Karlie Kloss, Carolyn Murphy en Hannah Ferguson op de gevoelige plaat vastgelegd voor de V'S 2020 Calendar van V-Magazine. Hieronder een compilatie van de fotoshoots en een video met de behind the scenes-beelden. Bekijk hier alle foto's van de kalender.
's Werelds mooiste vrouw volgens de wetenschap
Terug naar Bella Hadid, want we hadden beloofd nog even terug te komen op de wetenschap. Volgens een rekenmodel is bepaald wie de mooiste bekende vrouw ter wereld is. Met een score van 94,35 procent staat het half-Nederlandse supermodel het dichtst bij perfectie. De hoge beoordeling had ze te danken aan haar ogen, wenkbrauwen, neus, lippen, kaaklijn, de vorm van haar gezicht en vooral aan haar kin. Die is nagenoeg perfect en kreeg een score van 99,7 procent. Bekijk hier de top 10 mooiste vrouwen ter wereld volgens de wetenschap.
👀 Check ook: Foto's: Kylie Jenner uit de kleren voor shoot in Playboy